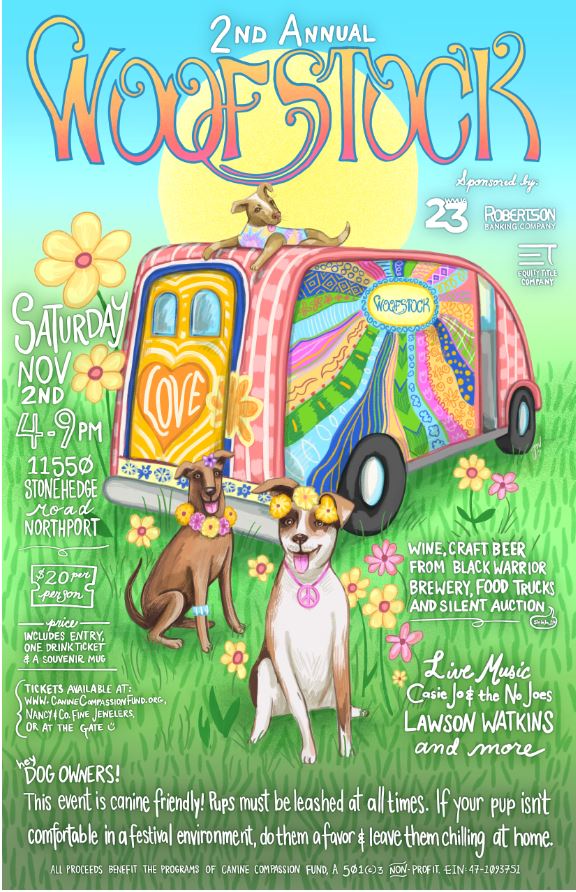 Saturday, Nov. 2, 2019, 4 - 9 p.m.
Join us for an afternoon/evening of fun in a beautiful, fall outdoor setting, surrounded by white lights and great tunes, with a bonfire to keep you warm on the outside and tasty chow and beverages to keep you warm on the inside. The silent auction will have a fabulous array of items, just in time for the holidays.
The location is the future home of Well Worn Paws, CCF's future senior canine sanctuary.
$20 per person, admission includes a souvenir stein and 1 drink ticket. Some tables available, but patrons are invited to bring their own comfy chairs and/or picnic blankets.
Get your tickets at Nancy & Co. Fine Jewelers, 1848 McFarland Blvd., Northport, AL, online at www.CanineCompassionFund.org/support-giving or via our Facebook page - The Canine Compassion Fund. Tickets purchased online will be available for pick up at the gate on the day of event.
ABC License/Permit #: 240/011114463, Division C.
***********************************************************